Sample Embroidery Swatch
Get a taste of our signature soft + fluffy towels with our Sample Embroidery Swatch. Touch and feel for yourself, and ensure a perfect color match between our embroidery and design elements in your own home! We accept free returns on these, so you can send them back free of charge once you make your pick.
Earn More Soft and Fluffy!
Unlock exclusive discounts and perks through our Loyalty Program.
Swatch is 12.5x6 inches
Includes samples of Weezie signature thread colors
The swatch is the hand towel and washcloth weight: 500gsm (grams per square meter); for reference, our bath towels and bath sheets weigh in at 650gsm
We ship to all 50 states in the US and Puerto Rico. Non-customized items that haven't been used or laundered can be returned or exchanged within 30 days. This product qualifies for free returns.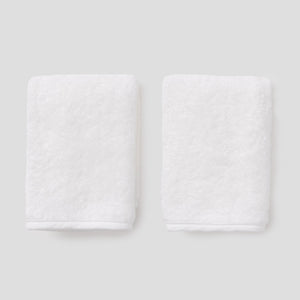 Make it a set!
Signature Washcloths (pair)
Starting at $36
Ratings & Reviews
See what people are saying
Sample Embroidery Swatch Size Guide
5'6" - 5'9"
5'10" - 6'4"
6'5"+
Under 140 lbs

S

M

M

141-160 lbs

S/M

M

M

161-170 lbs

M

M

M

171-180 lbs

M

M

L

181-200 lbs

L

L

L

201-210 lbs

L

L

XL

211-240 lbs

L

XL

XL

241+ lbs

XL

XXL

XXL
Size
Overall Length
Sleeve Length
Shoulder to Shoulder
Please note products are not pre-shrunk and may shrink up to 5% upon washing