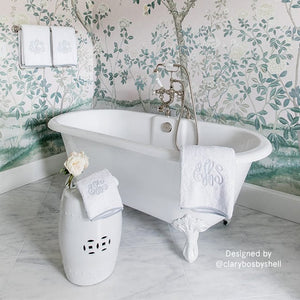 Program Benefits
VIP Discounts &
Free Shipping

Dedicated Account
Support

Applicable Tax
Exemption

Sneak Peaks
& Early Access

Project Features
& Spotlights
Apply Now
Still have questions?
From Our Trade Members
Don't just take our word for it!
"Weezie towels are the most plush, five star hotel quality towels with excellent monogramming and threading options. The range in aesthetics, from traditional to contemporary, plus a gorgeous array of colors, is my favorite thing about the company's offerings. Not to mention, they ship in the blink of an eye!"

"Weezie makes the softest, most absorbent towels I have encountered in a long time. They are an obvious answer for any designer looking for quality and craftsmanship, and who knows that no detail is too small. I am such a fan of Weezie that I gifted a set of the personalized, piped edge towels to each member of my staff."

"We love Weezie towels as they provide us the perfect final layer to make a house feel like a home, while allowing us the comfort of knowing that we are leaving our clients with a product that is not only aesthetically beautiful, but offers high quality and functionality as well."
FAQ's
Want to know more?
Qualified design professionals are eligible to join our Interior Design Program. We require one of the following to prove eligibility: business license, proof of design organization membership, and/or Interior Design certification. For tax exemption, we require a valid resale certificate.

We do not! All orders placed by approved Interior Design Program members are eligible. Please note that pre-discounted bundles and gift cards are excluded from the discount.

Yes! Once approved, you will be given access to trade pricing through our website. If you need support placing an order, our dedicated design account team is here to help.

To inquire about our Sample Kit, please contact designers@weezietowels.com.

Yay! We're excited to have you. Please use the form here to provide the required information. A member of our team will get back to you as soon as possible with next steps.

Apply now for industry perks

Submit an application with details about you and your business. A member of our team will be in shortly with next steps!